Professional Staff
Professional Staff
Rabbi Jack P. Paskoff
Welcome everyone!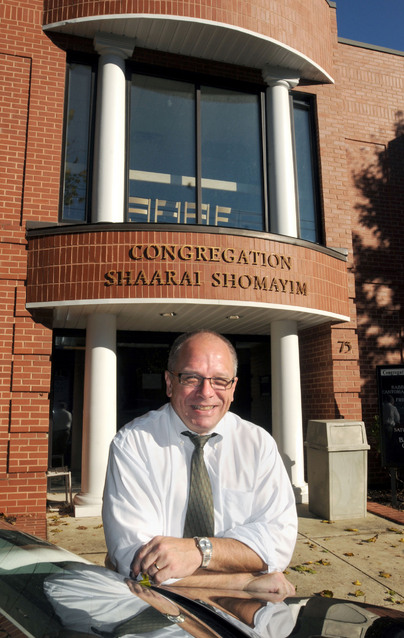 Let me tell you a little about myself. I was raised in suburban New York where my family belonged to a Reform congregation. From the time I was in high school, I was headed toward becoming a rabbi. Along the way, I did a great deal of work in youth groups and Jewish camping, serving on the staff of our Reform movement camp in the Berkshires.
I graduated from Brandeis University, and then spent my first year of Rabbinical School in Jerusalem, before returning to the Hebrew Union College-Jewish Institute of Religion, New York campus. I was an intern at Temple Judea of Manhasset, where I met Risa. We've been married since 1986.
I also served student congregations in Bradford, PA and Brooklyn, NY. After I was ordained in 1988, I became the associate rabbi at the Anshe Emeth Memorial Temple in New Brunswick, NJ. I spent 5 years there learning and growing and completed a unit of CPE (Clinical Pastorial Education) to hone my skills in dealing with illness and grief. My son, Ari, was born there in 1989.
After 5 years, it was time for me to move to a congregation of my own. We moved here to Lancaster in July of 1993, and have been here ever since. Our family grew with the birth of Gadi in 1994.
We are pleased to have grown along with our congregation, and I continue to try my best to reach out to our congregants and to the community at large, focusing my efforts on education for people of all ages and on Tikkun Olam (our efforts to repair the world). I am also especially proud of the music program we have developed at Shaarai Shomayim.
I enjoy getting to know our congregants, and would look forward to meeting people who are new to the congregation or community. Just give me a call (717-397-5575) or send me an e-mail.
Shalom!
Jack P. Paskoff
Rabbi
Marian Kleinman, Cantorial Soloist/Educator
On July 1, 2014, Shaarai Shomayim welcomed Marian Kleinman to the congregation in the newly created role of cantorial soloist/educator. In this capacity, Kleinman will oversee all the musical programs at Shaarai Shomayim, as well as the overall operation of the temple's Religious School.
Kleinman's duties will include
coordinating and leading music for all Shabbat and holiday services; preparing B'nai Mitzvah students with prayers, Torah, and Haftarah portions; collaborating with Temple musical groups; providing music at Religious School services; creating and implementing the Religious School music program; overseeing Religious School curriculum development and implementation; and overseeing personnel decisions for the Religious School.
Kleinman previously served as the Principal at Beth Am Temple in Pearl River, N.Y., and was the Cantorial Soloist at Congregation Agudas Achim in Livingston Manor, N.Y. A cantorial student at the Academy for Jewish Religion in Yonkers, N.Y., Kleinman recently completed her Master's in Jewish Studies from Gratz College, and received a graduate prize at graduation for her academic achievement in the field of Liturgy. She also holds a Master's in Creative Writing from The City College of N.Y.
Kleinman holds N.Y. State teaching certification in English and Social Studies and was also a part-time freelance journalist. She has written a screenplay and memoir about her mother's experiences as a member of the Belgian Resistance during the
Shoah
and she has earned several awards and fellowships, including the 1989 Louis Ginsberg Memorial Fellowship. She has taught at several, community colleges, online colleges, and public schools.
In addition, Kleinman plays guitar and enjoys reading, baking, music, dance, and art, activities with her family, and gardening. She grew up in Rockland County, N.Y., where her parents were founding members of Temple Beth Sholom in New City and her mother continues to be active in the Jewish community and in the local Hadassah. She and her husband Mark have a daughter Rosa.
Kleinman is looking forward to working with Paskoff to create participatory, meaningful worship gatherings for the congregation. "I enjoy leading our congregation in song during our Shabbat and holiday gatherings together," she said. "I'm delighted to see the beautiful Religious School at Shaarai Shomayim, and look forward to teaching music and guiding the Faculty Team."
Sun, 1 February 2015 12 Shevat 5775