Professional Staff
Professional Staff
Rabbi Jack P. Paskoff
Welcome everyone!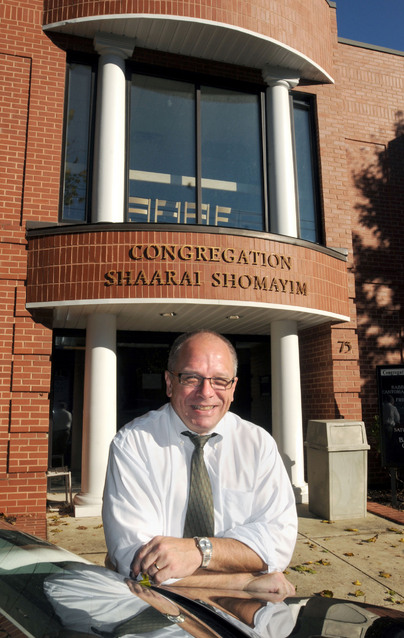 Let me tell you a little about myself. I was raised in suburban New York where my family belonged to a Reform congregation. From the time I was in high school, I was headed toward becoming a rabbi. Along the way, I did a great deal of work in youth groups and Jewish camping, serving on the staff of our Reform movement camp in the Berkshires.
I graduated from Brandeis University, and then spent my first year of Rabbinical School in Jerusalem, before returning to the Hebrew Union College-Jewish Institute of Religion, New York campus. I was an intern at Temple Judea of Manhasset, where I met Risa. We've been married since 1986.
I also served student congregations in Bradford, PA and Brooklyn, NY. After I was ordained in 1988, I became the associate rabbi at the Anshe Emeth Memorial Temple in New Brunswick, NJ. I spent 5 years there learning and growing and completed a unit of CPE (Clinical Pastorial Education) to hone my skills in dealing with illness and grief. My son, Ari, was born there in 1989.
After 5 years, it was time for me to move to a congregation of my own. We moved here to Lancaster in July of 1993, and have been here ever since. Our family grew with the birth of Gadi in 1994.
We are pleased to have grown along with our congregation, and I continue to try my best to reach out to our congregants and to the community at large, focusing my efforts on education for people of all ages and on Tikkun Olam (our efforts to repair the world). I am also especially proud of the music program we have developed at Shaarai Shomayim.
I enjoy getting to know our congregants, and would look forward to meeting people who are new to the congregation or community. Just give me a call (717-397-5575) or send me an e-mail .
Shalom!
Jack P. Paskoff
Rabbi
Director of Education Holli Winick Viau
Shalom!
I am proud to be the Director of Education here at Congregation Shaarai Shomayim. I have the opportunity to work with so many talented and committed people who share my vision to foster and to further the Jewish education of our children, helping them to become practicing, conscientious, compassionate Jewish adults. My job allows me to interact with the students on a regular basis, and to not only know what they are learning about in their classrooms, but about outside concerns that affect their world. I try to be visible and present in the classrooms, at least popping in for a visit, but often taking a seat to observe what is going on that day.
My main focus is the student body, but a large part of my job that I take very seriously is talking with, observing, and reflecting with the teachers. These are the people who plan and implement the important Jewish curriculum to enrich the lives of the children in our school. They are the faces that our children see each week, and the ones who have the opportunity to interact directly with our students each week. Our fine group of teachers are the ones who impart the knowledge and share the vision with our children and their families. I strive to be a resource for them, as well as a teacher and a good example.
I am here to help parents with decisions about enrolling their children, homework issues, and any other concerns that might arise. I work hard to make sure that parents are aware of what is going on in the school and within the classrooms. Working together, between school and home, can only prove beneficial to all of our children. We want them to understand that they are not learning with us in a vacuum, but that being Jewish applies to all aspects of their lives. We have opportunities for parents and their children to learn together during our Family Education sessions, and our many activities and events that are offered throughout the year.
You can always reach me by email or by phone at 717-397-5575. I look forward to hearing from you, and helping to integrate Jewish education into the lives of the members of your family.
Mon, 9 December 2013 6 Tevet 5774