History
History
Lancaster, Pennsylvania may seem to be an unlikely landmark for Jewish American history. Jews have been here since the early 18th century and our congregation's cemetery is the fourth oldest Jewish burial ground in America. The numbers then were small and fluctuating. A hundred years later, Jews from Central Europe began making their way to Lancaster in numbers large enough to lead to the establishment of formal Jewish congregation. Since 1856, Congregation Shaarai Shomayim has welcomed members whose family stories reflect the broad spectrum that is American Jewry today. A vibrant and active congregation drawing members from throughout Lancaster County and beyond, Shaarai Shomayim remains housed in its stately 1896 building at the corner of Duke and James Streets. After more than one hundred and fifty years, we are proud of our long history in this community, our continued growth, and our desire to keep programming on the cutting edge of the best that Jewish life has to offer.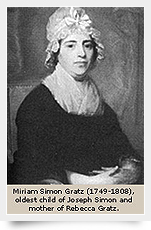 Congregation Shaarai Shomayim is heir to one of the oldest Jewish communities in North America and traces its roots back to early 18th century, when Joseph Simon, the first practicing Jew who made a permanent home in Lancaster, settled here in 1740. Simon ran a store on the site of the former Watt and Shand Department Store and he lived across the street on the southwest corner of Penn Square where Citizens Bank now stands. Simon, Levy Andrew Levy, his nephew, and Joseph Solomon, an uncle of his wife, formed the core of Lancaster's Jewish community in the 18th century. They were the first Jews to settle in Lancaster who openly practiced their faith and raised families here. Simon was unquestionably the patriarch of Lancaster's colonial Jewish community. Highly regarded by his peers, wealthy but presumably illiterate, Simon provided a room in his home for worship, purchased two Torahs (bequeathed by Simon to Congregation Mikvah Israel in Philadelphia), and hired and housed the ritual slaughterers.
In 1747 he and his friend and neighbor, Issac Nunes Henriques, purchased land for a burial ground "for the Society of Jews in and about Lancaster. This cemetery on the north side Liberty Street between Lime and Shippen Streets contains five headstones that date from the colonial period and is the fourth oldest Jewish burial ground in North America. Simon's death in 1804 marked the end of Lancaster's colonial Jewish community and there was no one left to care for the cemetery. Jews began to return to Lancaster in the mid-1800's and at the time members of Congregation Shaarai Shomayim began to take care of the long-neglected cemetery. By the early 1900's, Shaarai Shomayim moved to establish formal ownership of the colonial era cemetery which was granted by the courts in 1902.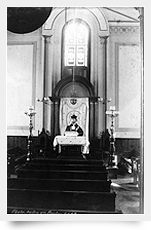 On February 25, 1855, Jacob Herzog, a German merchant who had settled in Lancaster about a decade earlier and operated a store on the west side of North Queen Street, convened a meeting to establish a formal Jewish congregation in Lancaster. Lancaster's colonial Jewish community had died out, but by the mid-point of the 19th century numbers had grown and a group of 21 men wanted Lancaster to have a formal Jewish congregation.
On March 4, 1855 this group met again and chose a name for their new congregation: Shaarai Shomayim (Gates of Heaven.)
Services, using a Torah owned by Jacob Herzog were conducted in Herzog's home on what is now Howard Avenue. By October 1855, the congregation had hired a man to be both cantor and teacher for $150 per year. Twenty-three dollars was collected and given to Herzog to pay for formal chartering expenses.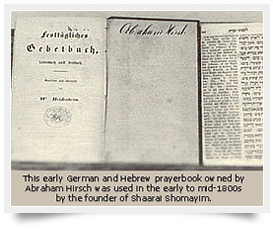 On November 18, 1856, Congregation Shaarai Shomayim received its charter from the Commonwealth of Pennsylvania. By the mid-1860s, the congregation, which had been making do with temporary synagogues, wanted its own permanent home. On September 13, 1867, Shaarai Shomayim dedicated its first permanent spiritual home, a small single-story building at the corner of East Orange and North Christian Streets, where the Lancaster Bar Association Headquarters now stands. That building, which was generally known by both members and the community as the Orange Street Synagogue, remained in use until the congregation moved to its present location in 1896.
In less than 30 years, Congregation Shaarai Shomayim outgrew its small Orange Street synagogue. In February 1894, the congregation purchased a large property at the corner of North Duke and East James Streets and constructed the current building. It was to be dedicated on April 24, 1896 with great celebration.
In only 40 years the congregation had grown from worshipping in homes or a room in a store to a magnificent building; from barely a minyan to a membership of about 70. Rabbi Isaac Mayer Wise, the father of American Reform Judaism, was to dedicate the building on Friday, April 24, 1896.
The day before the dedication a gas odor was detected in the building and a plumber was called to locate the gas leak. As he struck a match to pass over the gas jet in the sanctuary to find the leak, there was a terrific explosion. Smoke and flames shot up from the floor. The janitor, in the sanctuary to get it ready for the dedication that evening, was seriously injured. While the plumber stayed behind to try to put out the flames, the contractor ran down to the car barns on North Queen Street to send in a call from the fire department call box there. The fire did small damage, but the effects of the explosion were terrible: pews were ripped from their fastenings, the chandelier was thrown from the ceiling; panes in the building's magnificent stained glass windows shattered; carpet and furniture had been torn up and tossed about. The temple was a sad sight.
The dinner for visiting clergy, including the "father" of American Reform Judaism Rabbi Isaac Mayer Wise, who had already gathered in Lancaster for the dedication went on as scheduled as did the celebratory ball the following Monday night. When all the repairs were made Temple Shaarai Shomayim was finally dedicated on September 8, 1896.
In its first few decades, worship at Congregation Shaarai Shomayim was more or less orthodox in style. German was the language of services, of the religious school, and of the congregation's records. Typical of its time, Shaarai Shomayim struggled to find a style of religious practice that would reflect Jewish traditions and be amenable to American life.
It was Shaarai Shomayim's first professional rabbi, 20-year old European trained Morris Ungerleider who came to Lancaster in 1884, who nudged the congregation toward Classical Reform Judaism. Begun in Germany in the 1780's, Reform Judaism had come to the United States by the middle of the 1800s.
Nathan Glazer, in his 1971 book American Judaism, characterizes 19th century Reform as "the religion of economically comfortable Jews who wanted to be accepted by the non-Jewish world." At Shaarai Shomayim, gradual changes in Jewish practice had begun in the 1870s: men and women sat together; organ music and a choir began accompanying services; men rarely wore tallitot and some removed their hats; English began supplanting German and Hebrew in services. Just before Rabbi Ungerleider left Lancaster in the fall of 1888, the congregation passed a formal resolution adopting Reform Judaism.
It is likely that there never were B'nai Mitzvah at Shaarai Shomayim until the 20th century. Old records and minutes of the congregation do not mention any. By 1878 Confirmation became the right of passage for children of the congregation and unlike Bar Mitzvahs at the time, both boys and girls were confirmed from the beginning.
It was not until 1933 when Rabbi Daniel Davis conducted the Bar Mitzvah of Leonard Peitzman (the father of Past President Judy Shenk) that the traditional Jewish life cycle event returned to our congregation. In 1961 Rosanne Miller, now Roseanne Selfon, became Shaarai Shomayim's first Bat Mitzvah. Today B'nai Mitzvah are significant rights of passage in the lives of our young congregants, and Confirmation is celebrated at the time of student's high school graduation.
Growth in membership, growth in physical facilities, and growth in activities all combine to capture the 20th century history of Congregation Shaarai Shomayim. Individual Rabbis working with lay leaders responded to changes in Reform Jewish practice to continually update worship and religious education. Increasing membership and activity necessitated numerous expansions and modifications of our city property. And a reawakening to the concept of "tikkun olam," led to more social action both within our community and beyond.
Until the late 1970's, Shaarai Shomayim remained a Classical Reform Jewish congregation: services were conducted in English with only a smattering of Hebrew and limited congregational participation. Musical accompaniment consisted of a paid choir and organ. This was not a unique picture for an American Reform Jewish congregation. But by the 1980's some traditional practices began to reclaim their place in the life of Reform congregations.
Renovations to the sanctuary in 1991 reflected this new more inclusive style of worship. Today, in addition to regular Friday evening services, which had been the custom for decades, there are also Shabbat morning services year round. The old practice of celebrating festivals on the nearest Friday evening has given way to festival morning services on Sukkot, Pesach, and Shavuot. There is more Hebrew in services and the procession with the Torah. Music today comes from a Cantorial Soloist, often supplemented by our volunteer congregational choir or junior choir.
While services continue in the 1896 sanctuary, our temple building has been added to and refashioned. A building at 508 North Duke Street purchased in 1929 to provide classrooms for the religious school and office space was demolished in 1999 to enlarge the social hall space. Property purchased on East James Street in 1959 for the new religious school was refashioned and incorporated in a new addition completed in 2000 to provide new office space and a larger more functional religious school space.
Social action includes not only outreach to members of the congregation in need, but also to the wider community. Among other things, working with other city houses of worship, Congregation Shaarai Shomayim helped to spearhead the creation of an overflow homeless shelter during the winter months, and we are currently working to support a refugee family.
Change within tradition has been the pattern of Congregation Shaarai Shomayim's recent history. Looking to the future, the congregation remains firmly established in the values and aspirations of the Reform Jewish movement.
Mon, 9 December 2013 6 Tevet 5774